Join us as we explore the avenues of faith—whatever gets us thinking and talking. Discover practical tips and seasonal topics, favorite things and religious traditions. Learn more about the people and ideas that lift our spirits, encourage us to ponder and sometimes simply make us smile.
Chakras + Feng Shui = The Ultimate Shazam in Home Decor?
0 comments / Posted by Kristin Spear
Faithhaus knows we are all looking for ways to maximize the bang when we choose our home decor. Combining the ancient beliefs in Chakras with the concepts of Feng Shui can do the trick in a contemporary, sophisticated interior.
Chakras are the centers of spiritual power in your body, and each one is associated with a color. Feng shui is the system of harmonizing your environment and uses symbols to achieve various purposes. Both of these concepts are about spiritual and physical health and well being. Bringing these concepts into the home are easy when you consider colors and symbols when choosing interior elements.
The seven chakras are represented by the colors of the rainbow: Violet, Indigo, Blue, Green, Yellow, Orange and Red- and the ultimate White. Important symbols in feng shui are koi fish, flowers, paper lanterns, butterflies, the mystic knot, Fu dogs and more.
So we combined the two for the ultimate SHAZAM of living a higher purpose. Here are some fun and stylish ideas from FAITHHAUS for your house… and your soul.
Kids need zen too! Violet is the color for the love of humanity and butterflies the symbol for love and freedom. This too cute butterfly rug from Rug Studio is higher spiritual attainment at $199.99!
Love the Legacy Home Koi Indigo Duvet Cover from The Home Decorating Company. This beauty isn't cheap ($684.99 for the King size) but is a good investment in home intuition. Place this in your master bedroom where you can master wisdom and intuition – the indigo traits. The powerful and energetic life force that koi bring are priceless.
If it's good enough for the president of the United States it's good enough for us!  This beautiful Mottahedeh Blue Dragon Dinnerware is at Gracious Style. The blue brings peace and understanding in the chakra world while the dragon encourages strong and loving relationships. So set the table with a whole set of these dishes and ohmmmm, enjoy. $35 for bread and butter plate.
Refresh your lighting with this lovely
paper lantern
.  It's a combo of Chinoiserie, the color green (our favorite), and the ability to bring harmony, balance and health. Pop this over a dining table or reading nook and bask in your spiritual glow. Find it at the
Paper Lantern Store
for only $4.95. Yep, we said $4.95.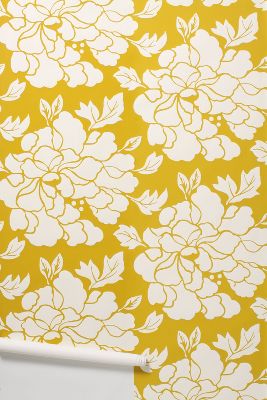 So cheery- this perfectly yellow
Paeonia Wallpaper
is the right blend of contemporary and classic — in other words, a fabulously flexible design. The peony ensures love and romance and the yellow brings energy and clarity- just what your vibrant home needs.  $148 per roll at
Anthropologie
.
The Fu dog is a Chinese symbol of protection, wealth and status. At $49, you can live like a king with these
fun and functional resin bookends
. Orange is the color of creativity and playfulness, and will help bring equilibrium into your life.  A Zen King, if you will. At
One Kings Lane
.
The mystic knot is 6 times infinity. There are so many good qualities related to this symbol – prosperity, longevity, everlasting love and protection. As you can guess, red is the color of energy, enthusiasm and passion. Hang this on your door handle or handles. Wallflowers watch out! $12.99 at the
Mega Feng Shui Shop
.
And finally, WHITE is the color of purity, innocence, wholeness and completion. It opens the way for the creation of anything the mind can conceive.
It is true that a baby comes in this world with a perfect balance of white, ready to impart his life with all the colors of the rainbow, the full spectrum from his life experiences. In Feng Shui, the tiger relates to creativity and joy, so why not give your precious tot the biggest, softest one around? This cuddly white tiger is from DougandMelissa.com, $79.99
The post Chakras + Feng Shui = The Ultimate Shazam in Home Decor? appeared first on FAITHHAUS.
Comments